Online SUP Yoga Teacher Training
Our online course is live! Sign up today.
Get certified to start your very own SUP Yoga business
25-Hour Yoga Alliance CEU Certification
Extra! Transfer 100% Tuition Credit for In-Person Course



Hi, it's Rosita here!
If you love SUP Yoga and would like to become a certified teacher (or simply deepen your personal practice), I would like to introduce the SUP Yoga Online Teacher Training Course to you...
Since 2015, I've been teaching SUP Yoga training courses internationally, and I've learned that there are so many students who would love to attend the course but can't make it due to travel restrictions or work and family responsibilities.
Therefore I have decided to make the very first online SUP Yoga & Fitness Teacher Training course!
Here are FIVE reasons why your future students will love this style of yoga:
SUP Yoga is for everyone. There are no age restrictions or required prior yoga experience needed to join these classes. One does not even have to like yoga to enjoy SUP Yoga!
Low Impact & Eco Friendly Workout. SUP Yoga offers many great benefits: connect with nature while enjoying a low impact physical workout. The eco-friendly new popular sport offers a perfect, holistic workout which is easy on the joints.
SUP Yoga is Fun. Break the old misconception about yoga being a boring or for flexible people only. SUP Yoga offers many fun challenges for even the strongest of athletes to try. Classes can be tailored to cater for all levels of practitioners leaving everyone happy and satisfied with their experience on the paddleboard.
Special Experience. SUP Yoga is very attractive for travelling students looking for an unusual experience. It's a great family activity, team building or a special occasion event.
It Doesn't Get Boring. Unlike doing yoga in a studio or gym, SUP Yoga classes are always unique and leave students wanting for more.
The time is now! Become a certified SUP Yoga Teacher with Rosita Jan who is known for her outstanding SUP Yoga Teacher Trainings. She certified a large number of teachers from all over the world who now successfully earn money from their passion.
With Stand Up Paddling becoming the fastest growing water sport in the world, new teachers are needed everywhere: expensive beach resorts, countries with rivers and lakes or even indoor gyms and hotels with pools. There are not enough SUP Yoga Teachers out there and this is why graduates are doing so well—and why it's great timing for you.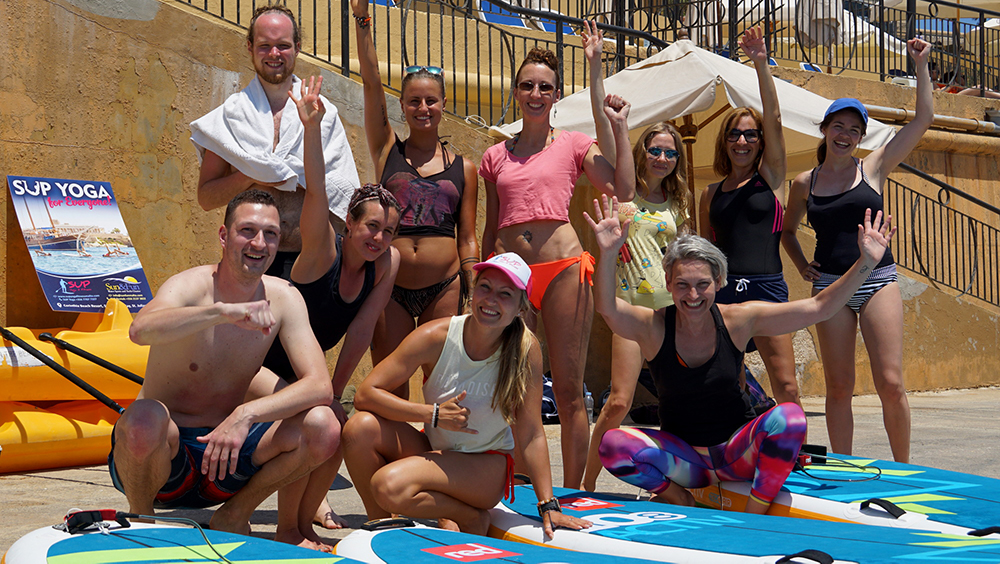 Why you should sign up for SUP Yoga Teacher Training Online:
Business Opportunities after you complete the course
Complete the course and add this Yoga Alliance certified program to your already existing qualification list.
Add SUP Yoga experience to your yoga/health/fitness holidays/retreats.
Travel and Teach Anywhere – as a certified SUP yoga instructor, you can teach in any country you want: the most beautiful travel destinations that exist around the globe.
Create business opportunities as you travel. Collaborate with water sports companies, holiday resorts, retreat centres or establish your own SUP Yoga station - the opportunities are endless.
Earn great money - unlike a regular yoga class, SUP Yoga offers a much better hourly rate. So you can make as much money as you decide.
Private SUP Yoga sessions or luxury SUP Yoga - you get the idea.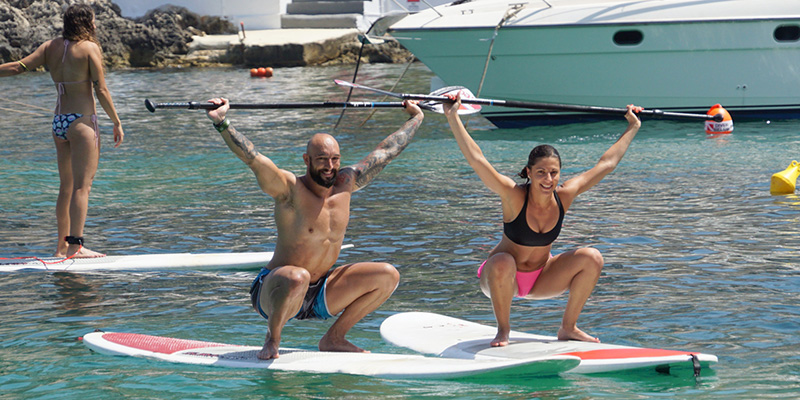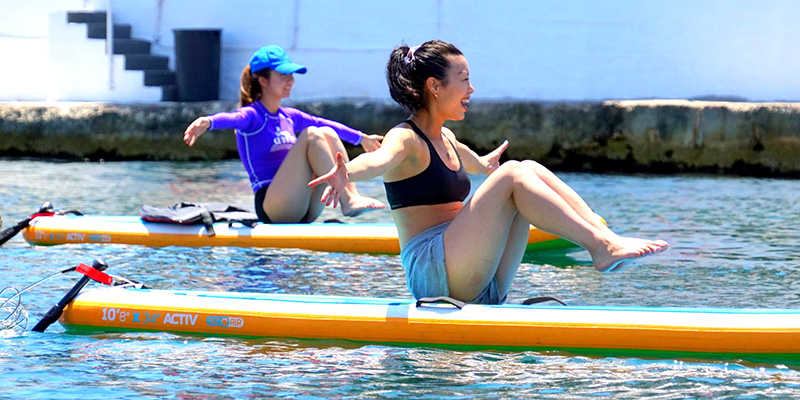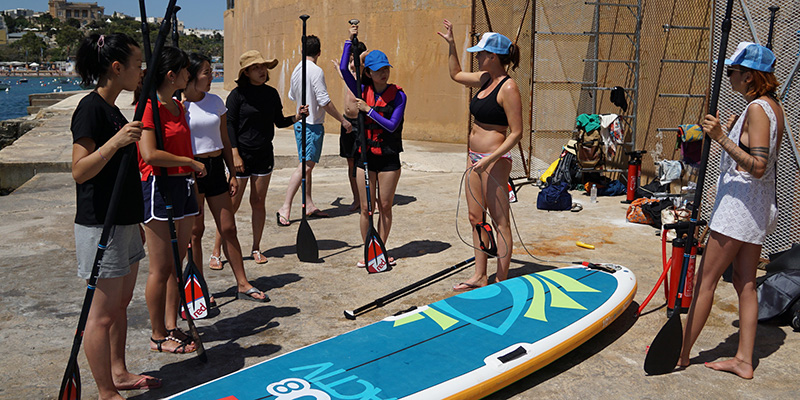 Online Training: How It Works
This course is designed for you to work at your own pace. You have 12 months to complete it. It can be done in as little as 5-7 days if you are in a rush to teach! Here's how it works:
Study. Spend an hour or two a day to go through the online materials and submit practical tests online.
Online Learning Platform. You'll be issued a login and password for your Online learning platform, where you'll find tutorials, instructional videos, checklists and more.
Bonus Materials. New student forms, copy/paste promotional forms and more are all included in the course. It is fast and easy to get started!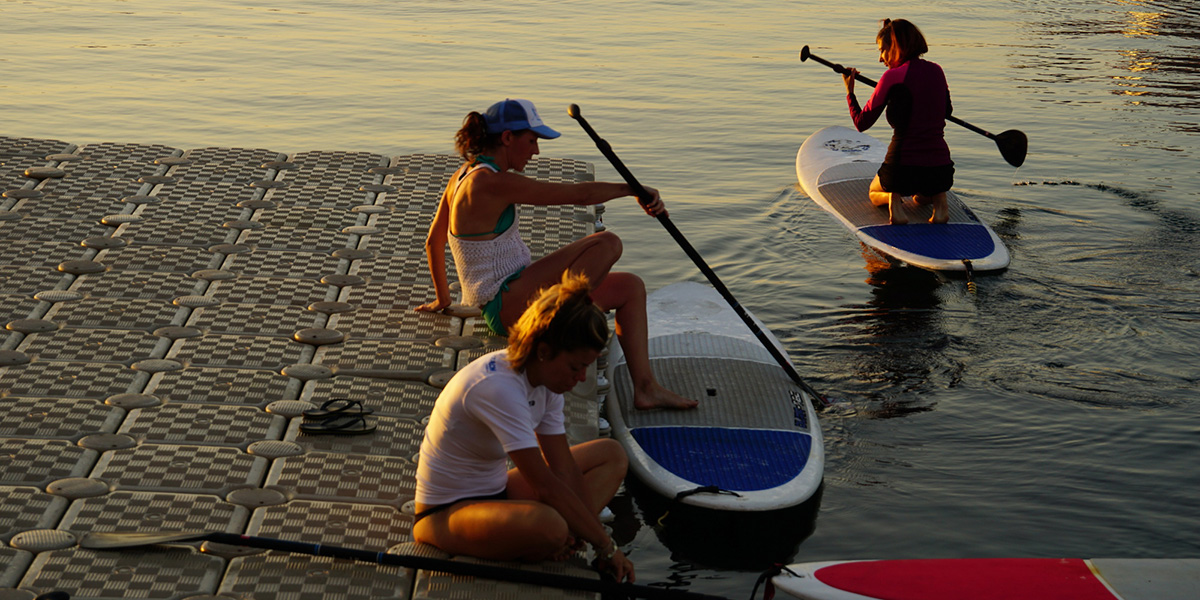 The Curriculum
SUP Yoga Teacher Training Online has been designed to make sure that you receive all the necessary knowledge required for you to feel confident as a new SUP Yoga Teacher. You will cover Stand Up Paddling basics, SUP Technical Terms and SUP Equipment, Active and Passive safety, Newbie tips for Paddling, SUP Yoga Basics and Creative SUP Yoga Class ideas, advanced SUP poses, class set up options and much more. Course creator and lead teacher Rosita Jan has been training professional instructors since 2015 and she takes pride in every SUP Yoga Teacher she certifies, therefore this course is for those who want to learn and are ready to complete to work required in order to start their own SUP Yoga teaching journey.

Stand Up Paddling Basics: a successful SUP Yoga Teacher knows all about the technical terms and equipment when it comes to Stand Up Paddling making their clients feel they are in professional hands. The course will provide you with an extensive amount of information about SUP as a sport.

SUP & SUP Yoga: Active and Passive Safety - You will learn about active measures to be taken to ensure the safety of your class and your students; You will study the list of active safety factors to be considered before every session.

Sequencing & Class Planning: You will be given a list of SUP Yoga poses that are designed to guarantee a fun SUP Yoga experience for your students making sure that they return for more. You will learn special SUP Yoga pose tricks to help your newbie students to feel more confident during their first SUP Yoga experience.

SUP Yoga Business: During the course, you'll learn how to use social media (such as Instagram and Facebook) to market your SUP Yoga classes, how to price your services and how to start making money teaching SUP Yoga straight away.

Online vs. Offline: How To Choose?
Good news! Sign up for an Online Course and if you decide to join us for an in-person course in Malta, your tuition will be applied to the in-person training of your choice.*
*Any available in-person training produced by Rosita Jan in Malta within the 12 months from the date of signing up for an Online Course. This offer cannot be combined with any other discounts.
Why Choose Online Training?
Study At Your Own Pace – No need for travelling or booking time off work - we know how busy you are! Study in your own time and your place of living.
Truly Affordable Investment – Yoga Trainings should be available for everyone. Save the cost of air fares, accommodation and other expenses.
Transferrable Tuition - you will have 12 months to join any in-person training in Malta.
Meet Your Teacher
Rosita Jan, Course Creator
Rosita Jan is a health & fitness entrepreneur, yoga and a mixed movement art teacher residing in Malta who specialises in Yoga Teacher Trainings internationally: in-person and online. Rosita is the creator and lead teacher at SUP Yoga & Fitness Malta and Trapeze Fitness & Yoga Malta, where she has a team of yoga teachers working alongside her.
Rosita believes that the business side of yoga is as important as the teaching skills. With the right guidance everyone can run a successful yoga/health business and design the lifestyle they desire around their passion. Helping others to become the best teachers they can be is the key element in any of Rosita's trainings. After attending various yoga teacher training courses in India, Thailand, Bali, South Africa and Europe and successfully establishing her yoga business in Malta, she decided to direct her focus towards helping others to do the same.
Rosita has trained with a number of internationally acclaimed teachers like Briohny Smyth, Dice Iida-Klein, Honsa & Claudine Lafond, Mackenzie Miller, Mathieu Boldron , Lucas Rockwood, Cameron Shayne & Melayne Shayne and has completed business training courses with Marie Forleo.
Tuition Investment
SUP is the fastest growing water sports activity in the world and the demand for SUP Yoga Teachers is on the rise. Complete the online version of the SUP Yoga Teacher Training or join us in person and start teaching straight away.
Frequently Asked Questions
Do I have to be a yoga teacher to be accepted to this course?
This course is designed for both: existing yoga teachers and those who are looking to deepen their yoga practice or add SUP Yoga & Fitness to their teaching skills. If you are a yoga teacher, after successfully graduating from the course you will be able to add this qualification to your Yoga Alliance CEU profile.
Does everyone successfully graduate?
This course is subject to completed course work and assessment of the tests and final exams. Course certificates cannot be bought.
Can I teach SUP Yoga after completing the course?
Upon successfully graduating from the course you will be able to teach SUP Yoga & Fitness classes internationally.
What if I want to ask questions throughout the course?
You will have email support throughout the course. Any questions you may have, you will not be left on your own. 
What if I change my mind throughout the course? Can I get my payment back?
Course payment is strictly non-refundable with no exceptions made. You are welcome to transfer your tuition towards any in-person SUP Yoga Teacher Training with Rosita held in Malta.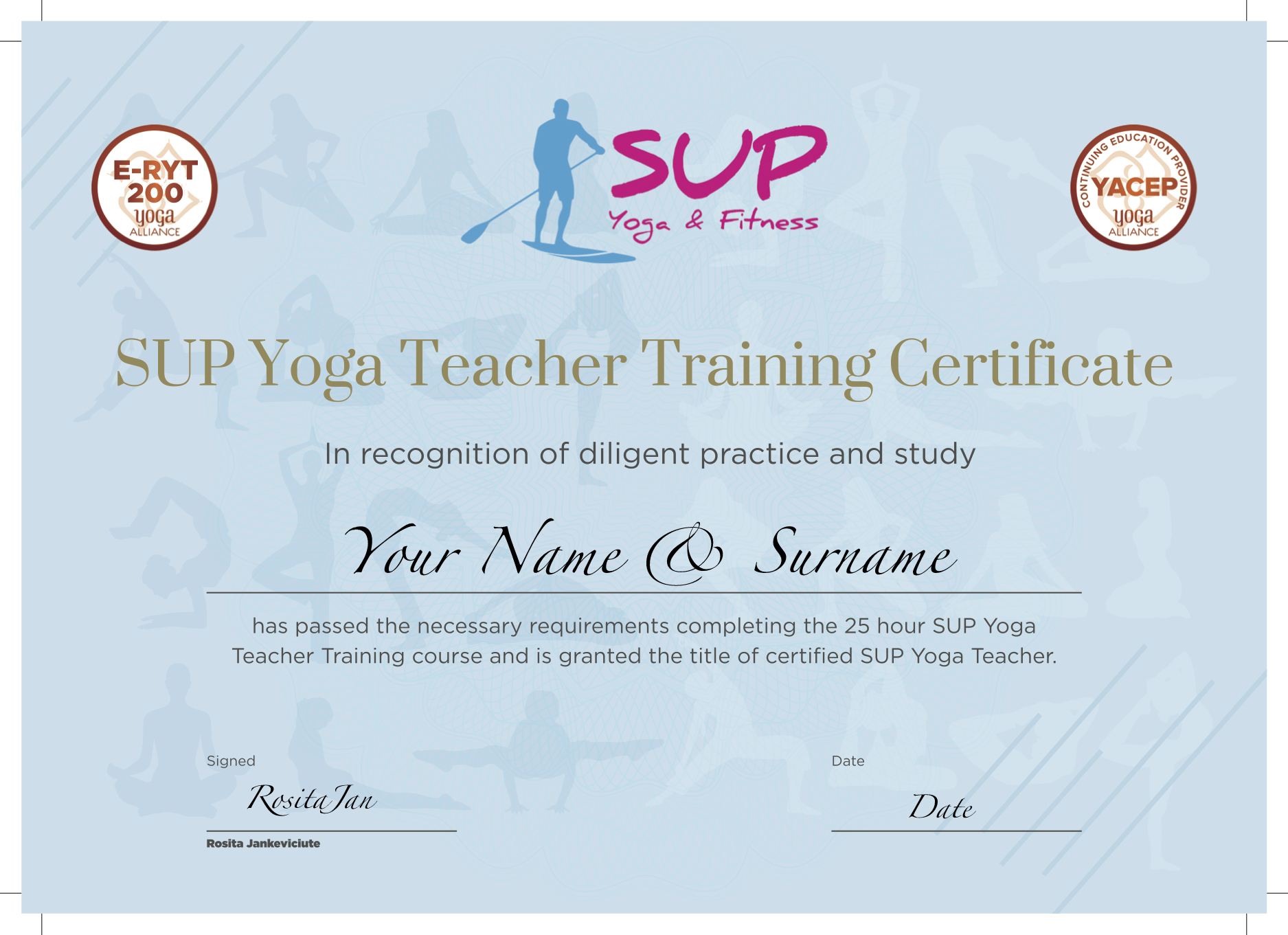 25-Hour Academic Certificate Course – Tuition Packages
Standard Online Course
Complete 25-hour Online, Academic Course
Yoga Alliance Continuing Education
Access to eLearning Training & Business Resources
Normal Price: €425
SAVE €100
Special price: Just €325
* Early price before March 25, 2019
Online Course + Personal Mentoring Session
Complete 25-hour Online, Academic Course
Yoga Alliance Continuing Education
Access to eLearning Training & Business Resources
* PLUS! Personal SUP Business Mentoring Session with Rosita Jan
Normal Price: €625
SAVE €200
Special price: Just €425
* Early price before March 25, 2019
Both Course Options Include:
Comprehensive Online learning course
Lifetime access to all online materials
Downloadable PDF course documents for your convenience
E-mail response to any course work related questions during the course
25-hour academic teaching certification (upon successful graduation)
Further discount to any future online courses offered by Rosita Jan
Register For Standard Course!
Online Course + Personal Mentoring Session
Get all the above plus a personal one to one 60min live call session with Rosita Jan with any questions about launching your SUP Yoga sessions/SUP Yoga business.
Register For Mentoring Course!
Testimonials From My In-Person Courses!
Linda Tso, May 2018
"Wonderful experience with Rosita!!! Three days of intensive training. Comprehensive teaching, covering paddling and yoga, as well as teaching techniques. Rosita is very energetic, experienced and talented. Keeping a small group of students, each one can have lots of attentions. I enjoyed a lot and I strongly recommend this training to those who like to have fun and learn at the same time."
Monica Riccomi, June 2018
"Amazing training! Three fantastic days. Everything was great! Rosita is a very professional teacher and the location perfect. I recommend this Sup Yoga Training for sure."
Alexandra Teliou, Greece, May 2017
"Very well organised course, approaching the sup subject from many different angles! Rosita is an encouraging, enthusiastic and authentic teacher!"
Mirit Orly, Israel, August 2017
"I am thankful for this Teacher Training. I enjoyed every minute of if. The teacher Rosita is wonderful and patient. I really appreciate the Teacher Training and all I have learned."
Jane Cradick, UK, August 2017
"I have just completed my SUP yoga teacher training with the beautiful Rosita.What can I say! I never expected to learn so much,not just about SUP yoga, but about how to be a successful yoga teacher, how to believe in your own abilities and to live your dream!Rosita's light is so bright that she cannot help but ignite it in others. She absolutely loves teaching and cares a lot about her students, I found myself smiling the entire time!"
Gabby Louise, UK, September 2017
"Rosita was so enthusiastic and really knew her stuff. Impressed with her teacher training manual, very detailed and informative and will be fundamental to my SUP Yoga class planning. Thank you!"
Kristiina Saarna, Estonia, September 2017
"The training was well structured and included physical practice, theory, teaching skills and social media aspects. While covering a broad range of subjects, it was never boring or too much to handle. Instead, a lot of useful fun during the 3 days. Rosita passes on her knowledge in a very inspiring way and takes good care of her students. I am extremely happy that I decided to do the SUP YTT in Malta, most valuable experience."
Bärbel Hoek, Germany, September 2017
"Teacher Training with Rosita... Amazing experience. Rosita is outstanding, she knows exactly what she is doing and how to teach to us, so we will never forget. Besides she is very warmful and caring to her students, smiling always not only from her face but also from her heart. She is really beautiful, from the outside and inside. I am very grateful to have met her."
Zita Hough, Ireland, June 2017
"Rosita hosted the most enjoyable and comprehensive three day training course that managed to be both fun and educational! Integrating her own classes as a gauge of what was to come, we were so lucky to have had such a professional and driven teacher guiding us through. Highly recommend this SUP Yoga teacher training, held under blue skies in one of the most beautiful places on earth!"
"You can't cross the sea merely by standing and staring at the water."